Death Chests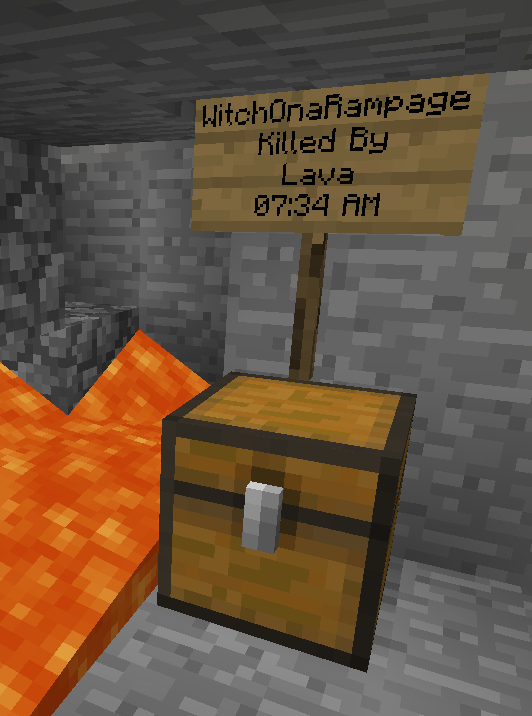 Death chests are chests that spawn when you die and hold as many items as will fit for 20 minutes, during which time anyone can access them. To see where your death chest was placed, see the commands listed below. You can have multiple chest up during the same time.
Tier 4 supporters [check] receive double death chests. All other players receive a single death chest.
Sections


[hide]

1 Where they work
2 What they contain
3 How to claim your death chest
4 Where are my death chests?
Where they work
The death chest will spawn where you died and can spawn just about anywhere (spawn, conquest points, water, in the air, etc).
Death chests will not spawn where there is insufficient room for the chest to be placed, such as where there are signs, doors or crops.
What they contain
As of 11/28/17 any items that do not fit in your death chest will be deleted
Items in your backpack (if you have one) do not transfer to the death chest. Backpack items drop to the ground.
The remaining items in your inventory transfer to your death chest. If you have a full inventory and can only have a single death chest, a small number of items will drop to the ground.
How to claim your death chest
Return to your death point to collect your items from the chest.
Your death point will be indicated on your minimap, if you are using one, or you can find it using the command below.
Right click on the chest - items will transfer from your death chest into spaces in your inventory. If your inventory becomes full, the remaining items will be dropped on the ground.
When your death chest is emptied, the chest and sign will disappear.
If your chest is not emptied before it expires, you will see a Chat notice saying "Your cenotaph has broken". This means the chest is gone and all items are on the ground.
Where are my death chests?
/cenlist
or
/tomblist
Lists the coordinates of death chests you have yet to claim. If you have more than one deathchest, the one marked with a higher number is the more recent death location. (If your death chest/cenotaph has expired, the coordinates will not be listed on the cenotaph list.)